March 2022
By Roxanne Peters, IP Education Specialist, Creative and Cultural Industries, University of Arts, London, United Kingdom
The COVID-19 pandemic has had an immeasurable effect on the global economy, the fabric of our society and our sense of being. We are more connected than ever and are adjusting to the acceleration of digital transformation to create, communicate and consume. The pandemic has also been an opportunity to reflect on how to think smarter, do things better, and be more conscious of the decisions we make for our future selves and wider societal and environmental benefit.
The urban economist Richard Florida notes that:
" … the "creative class," including designers, artists and high-skilled intellectual workers, acts as an engine of innovation and urban development, structuring creative hubs and networks for the economic, social and cultural development of their native cities and regions
."
For the creative and cultural industries, the pandemic has highlighted "the precarious nature of artists' work," and their vulnerability "to the economic shocks caused by the crisis."
For those already employed or starting their business, it is a critical time to identify ways to safeguard, survive and, for some, to start afresh. But what about the next generation of change makers, innovators and thought leaders? How can they prepare for the real-world scenarios they want to address and what responsibility do educators have to help amplify their voices?
Facing the future of creative practice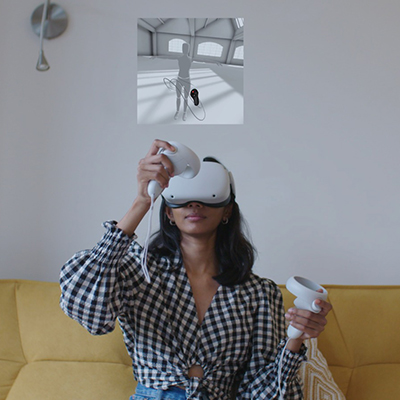 At a crucial time in their professional development, emerging creatives have had to adjust to new ways of engaging with educators, less studio time for their practice, with opportunities to build connections through organic conversations reduced. Yet these ongoing constraints have also encouraged innovative ways to cultivate co-creative practices and new beginnings, which is encouraging.
Creatives increasingly work in interdisciplinary and international ways; the ability to build communities and learn from each other is more accessible than ever. Collective thinking and doing is shaping the future. Collaborative practice is intrinsic to cultural production. The "digital" in this context is a tool to communicate, a platform to promote, or a solution to a problem.
Within this dynamic of global practice, intellectual property (IP) is a vital asset for innovation, economic growth and sustainable futures. Like an invisible business partner, it oils the wheels of trade, and encourages creative and cultural exchange. It also has the potential to play an important role in human-centered and socially conscious initiatives.
IP intersects design, innovation and technology. The rising importance of intangible IP such as tacit knowledge, and the ethical and economic considerations of protecting traditional cultural expressions in different parts of the world, has encouraged more focus on IP within business. This, together with the strength of small business networks, indicates that there has never been a more critical time to embed IP thinking into creative enterprise education.
As the global economy sets to repair itself and future entrepreneurs prepare for professional practice, it is essential that they have an awareness of how intrinsic IP is to their vision.
Igniting positive change through IP education
To date IP education has been largely reserved for teaching future law professionals. Only with the recent growth and recognized value of the creative economy
has any consideration been given to embedding IP education within interdisciplinary courses for business, innovation and enterprise. Notable global efforts to embed IP education within non-legal courses are found in Japan, which introduced legislation in 2002, requiring "universities and similar institutions to promote education and learning on intellectual property". And in Australia various universities offer an Issues in Intellectual Property unit.
The University of Arts, London (UAL) tops the ranks in the UK for the number of graduates starting a business. It is a leader in creative enterprise education and encourages its international students to recognize the value of their creative agency in practice. It offers financial and business support for accelerator and incubation programs and creates interventions with leading industry partners.
UAL's small IP education team connects with students and graduates to help them build self-confidence and make informed decisions when creating and collaborating with others. Rather than being knowledge-led within a teaching framework, their unique approach to support and guide recognizes the importance of responding to how creatives are motivated and helps them to problem-solve. It recognizes the potential of IP in two key areas.
First, IP plays an active role within a practice-led space where creatives learn by doing, encouraging the critical thinking required to move from an idea to innovate and make an impact in a global market. Second, it is integral to developing a business strategy, and to identifying and protecting an individual's values and ethos, their responsibilities and reputation.
This approach is embodied in an e-learning IP resource, designed with UAL creatives for the next generation. It brings together the voices and experiences of those in the early stages of developing their professional practice, together with a space to self-reflect and understand how IP plays an active role in defining the future of the way we live as well as identifying revenue streams and sustainable practice.
Reimagining and redesigning fashion
Different types of rights such as copyright (creative works), trademarks (brand and reputation), design rights (shape) and patents (inventions), protect different types of innovation and creative production. Importantly for creatives, copyright protects the expression of an idea – not the idea itself – such as an artwork or a website design. When deciding which IP right to use, it's therefore important for creatives to consider what they want to safeguard, why and how.
Many of the ideas students have in creative practice extend beyond traditional business models where financial gain is the primary driver. They can encompass social entrepreneurship, ventures that seek to solve social or cultural issues and green entrepreneurship, which can lead to a positive impact on the natural environment using sustainable processes
.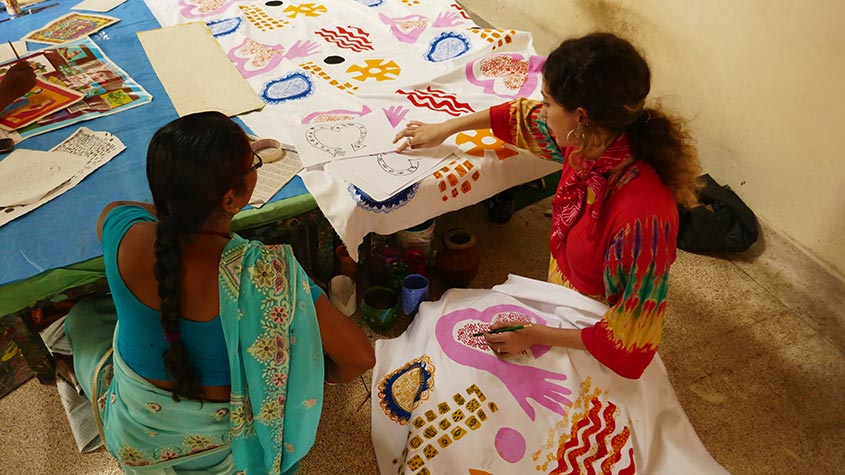 A call for action within the creative industries is perhaps most visible in reimagining the future of fashion. A philanthropist and advocate for climate change and sustainability, menswear designer Bethany Williams acknowledges that fashion "encompasses all industries from agriculture to communications, so it has a huge impact on the planet, producing 80 billion new garments each year and employing one in six people on the planet."
Conversely, at a time when the fashion industry's profits dropped by an estimated 93 percent in 2020, companies are rethinking their business models, streamlining their operations and realigning their position in response to consumer behavior.
Fashion education offers a space for the next generation to connect with global technology and business innovations, and use their intuition and imagination to guide the industry towards more sustainable, transparent and inclusive practices.
From an IP perspective, considerations for those starting out in the fashion business can range from understanding how copyright law works for fashion communication and increasing the visibility of brand identity to recognizing the intangible IP in insights, methodologies and services. At the stage of ideation, it is often about having clarity about who owns what when working with technologists, scientists and other industry experts to help make an idea a reality, and ultimately turn it into a scalable business.
The following case studies give an insight into some of the IP-related elements students and graduates have to consider as they transition from education to industry and from an idea to the market.
Ashwini Deshpande (@aforashwini) is a designer and technologist who graduated from London College of Fashion in 2021. She believes that "technology is the future of every industry and needs to make a difference in creating a circular industry". She founded Art-Z software as part of a collaboration with Microsoft. It uses artificial intelligence to reduce fabric wastage at the pattern-cutting stage, with the aim of achieving zero waste. As an international student entrepreneur, Ashwini acknowledges that when she wanted to turn her idea in to a business, she received guidance on protecting her IP. As her idea gained traction, Ashwini experienced the pressure points of deciding how much to disclose to those she wanted to attract support from without compromising her ability to retain control over her work. "It was all about signing non-disclosure agreements (NDAs) but also being diplomatic, as an NDA can be difficult to enforce, especially with big companies. IP turned out to be a very confusing thing to deal with. I am glad I had mentors and legal advisors supporting me."
For Ashwini, having an awareness of IP early on in her product development has helped her make IP a key part of her business strategy. As her software develops, she will think carefully about how to fulfil her ambition to scale it internationally, so it becomes a universal solution to reduce fabric wastage.
For London-based Brazilian designer and brand owner Joao Maraschin (@joaomaraschin), his practice is "a call for community action, and is founded on the principles of sustaining true connections and respect for the work developed by marginalized artisans globally, exploring the concept of social and environmental sustainability through human-centered design and preserving handmade techniques like crochet and embroidery, as well as working with new discoveries in raw materials."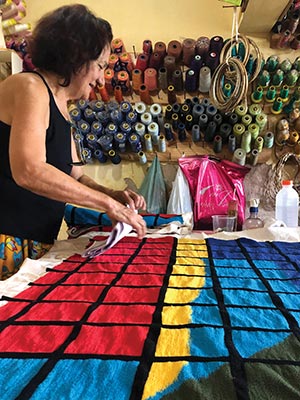 "I come across many artisans that are seeing their skills die out through lack of demand. This leads younger generations not to feel inspired to keep those techniques alive. I have also seen older practitioners lose their space in the industry and mature people being left out of the system in many ways," he notes.
Joao's vision is embodied in protecting his trademark to help develop his brand identity and reflects the interplay between IP and healthy ethical engagement. A graduate from London College of Fashion, he has taken time to consider how best to convey his commitment to transparent and inclusive practice. His online presence sets out his positive impact statement and is a testament to those creatives leading from the front and taking action to address inequality and cultural sustainability.
Embedding IP thinking into a business strategy is vital, but it is important that IP is an enabler and does not compromise enterprising ambitions. As collaboration lies at the heart of creative practice, it is essential that IP is considered within this space. Ellen Rock, a London-based fashion and textiles designer who uses her vibrant prints as a voice to collaborate with global communities on artisan-led products and projects, describes collaboration as "the core belief that an end result is stronger through combined energy. It enables an idea to travel to greater lengths than an individual attempt and encourages knowledge transfer and shared common goals," she says. Ellen (@ellenrockstudio) has navigated the complexities of IP through managing her trademark and registered designs on an international platform and perceives IP as "integral to the progression and development of the brand; it establishes your right as a leader of design and integrates a futuristic vision with a foundation of business. It acts as a fall back and a symbol of confidence when you are working on behalf of clients," she notes.
Joao's and Ellen's passion and commitment for recognizing the importance of cultural preservation and sustainability with business practice is core to IP education. For those collaborating with local and Indigenous communities striving to preserve and celebrate traditional craft techniques and knowledge, this presents a moral and ethical dimension. While these communities "have the right to maintain, control, protect and develop their cultural heritage, traditional knowledge and traditional cultural expressions
," this conceptual notion is underpinned by complex technical and legal uncertainties, primarily in terms of how traditional cultural expressions are defined, for what purposes they should be protected and for whose benefit.
…intellectual property is a vital asset for innovation, economic growth and sustainable futures. Like an invisible business partner, it oils the wheels of trade, and encourages creative and cultural exchange.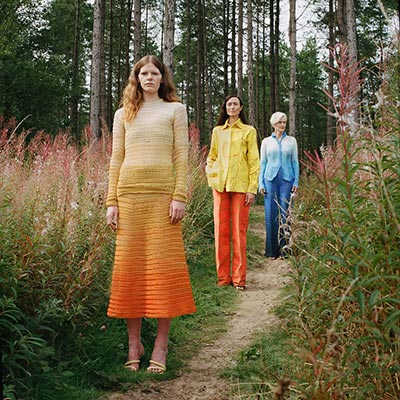 IP may be seen as a form of protection and a way to retain value for such communities. However, many community practices are passed from one generation to the next; they do not belong to the individual but form part of shared beliefs and traditions. As traditionally, IP is seen to protect and reward an individual's creative outputs, it falls short in this area.
As the global economy sets to repair itself and future entrepreneurs prepare for professional practice, it is essential that they have an awareness of how intrinsic IP is to their vision. IP education is not about having all the answers. It is about encouraging the next generation to lead from the front, recognize the value of their creative agency and use their critical thinking and perspectives to make decisions that may not always be financial successes but which have a longer-term positive impact.
As Joao recognizes, "overall, I treat my social and environmental impact as a primary measure of success for the business and prioritize it even in cases where it may not drive profitability. I believe the future of fashion relies on respect, to the planet and people, and sustainability is absolutely non-negotiable."