March 2022
By Paul Omondi, freelance writer
Young Kenyan entrepreneur, Nzambi Matee, is making an impact on Kenya's built environment through an innovative solution that recycles plastic into construction materials. In a recent interview with the WIPO Magazine, she explains how she was inspired by the late environmental conservationist and Nobel laureate Wangari Maathai to set up Gjenge Makers to manufacture pavers as an alternative, affordable and sustainable building product.
What inspired you to consider recycling as a viable enterprise, and why the construction industry?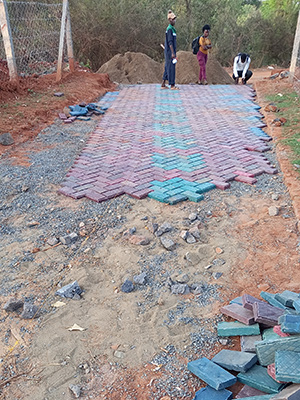 Recycling has become a big and necessary industry in today's world. We have to consider what to do with all the products and materials we produce at the end of their lifecycle. There's only so much we can dump in landfills. Nature is also forcing us to be more efficient in our processes. Recycling is key if we are going to succeed in making the circular economy a reality. I wanted to disprove the notion that recycling is an expensive, niche market. I decided to focus on the construction industry because it is vital in providing shelter, which is one of the most important human needs.
I also have a passion for environmental conservation, which has been inspired by the late Wangari Maathai, the first African woman to win the Nobel Peace Prize in 2004. She achieved a lot through her activism. I decided to play my part in conserving the environment with science and engineering. Those are the tools of my trade.
What does the name "Gjenge" mean?
Gjenge is an adaptation of the Kiswahili word jijenge, which means "build yourself." It's a perfect fit for our business because we are in the construction industry, so the idea of "building" is appropriate. Our vision is to see people build a sustainable future; no one wants to live in a polluted and degraded environment. That's where our recycled pavers come in.
You call yourselves change makers. What is the change you want to see?
In Nairobi, Kenya, where we are based, you hardly see any scrap metal waste because the recycling system for scrap metal is well defined. My vision is to manage recycling of other materials, especially plastics, in a similar manner. That's the change we want to make, both in terms of environmental impact and social impact. So far, we have recycled more than 20 tons of plastic and created more than 100 jobs for garbage collectors, women and youth groups.
Did you ever imagine running this kind of business?
My background is in physics. I studied geophysics and natural science, but now I'm leaning more towards natural science. I'm self-taught in mechanical and hydraulic engineering, which is why I ended up running a building materials construction company. I have always wanted to provide building solutions and play a role in the conservation of the environment. Gjenge makes both of these ambitions possible.
How do you ensure you have the best talent?
We have 26 full-time employees including electronic, hydraulic, mechanical and production engineers. Training is key. We are constantly training staff on our processes and business. We are also setting up a research and development (R&D) division to stay ahead of the curve, continue to innovate and come up with new solutions and add value to the market.
Tell us about the R&D and marketing efforts that went into setting up Gjenge.
It took us about three years to research and develop the product before commercializing it. R&D is key because we are pioneers in the industry, paving the way for others with quality products and processes that offer innovative solutions for affordable and environmentally sustainable housing.
As for marketing, we have been fortunate to have partners who believe in our vision. They have done most of the marketing for us, but word-of-mouth is also very powerful and has worked well for us. We have also received backing from international organizations, including United Nations agencies, multinational corporations like Coca-Cola, regional blue chips like East African Breweries and London Distillers Kenya, and the public sector through Kenya's Ministry of Transport, Infrastructure Housing, Urban Development and Public Works. Such endorsements give us much-needed credibility to penetrate the market.
Our dream is to have an automated assembly line and a diverse product portfolio to meet increasing demand and increase our market share.
What was the focus of your R&D activities before entering the market?
First, we focused on getting the product right. That was important because it is a new solution. Then we had to make sure there were no bugs in our in-house production technology and that it met the standards and specifications required by the Kenya Bureau of Standards (KEBS). And we also had to research and clearly define our target market.
Take us through the production process.
Our pavers are made of polymer concrete, which is basically sand and plastic. The sand is the aggregate in our process, although you can use any aggregate, while the plastic is the binder; it's the equivalent of Portland cement used to bind sand, gravel and crushed stones in conventional concrete. 
We mix the sand, crushed plastic and color pigment and feed the mixture into an extruder where it is heated to almost 400° C. The mixture leaves the extruder as a pasty compound, which cools before being placed into molds of varying shapes. These are compressed by a hydraulic press at between 100 to 200 metric tons to make the pavers, which are cooled before packing.
What is your current production capacity?
At present, we are producing 1,000 to 1,500 pavers per day. But we need to produce ten times more to meet current demand and are unable to scale fast enough to meet that demand. We hope to produce about 5,000 pavers per day by December 2022. That's why we are intent on replicating and multiplying our products and processes, for example, through partnerships built around different models, from revenue sharing to franchising. That will enable us to serve the market fully. So far, we have such partnerships in place in three major towns in Kenya. 
What is the unique selling point of your pavers?
On its own, plastic is not very strong. But when used as an aggregate, its fibrous nature binds very well. Our pavers don't have air pockets; these are removed during pressing. This makes them up to seven times stronger than conventional concrete.
How are you protecting your innovation?
We are working on patenting our machines, products and processes. Once that's in the bag, we'll start scaling production. We hope to do this in 2022. Unfortunately, patents are very costly, so anyone choosing this route needs to ensure it makes economic sense. We're securing funding to cover the cost of patenting because we want to scale. So, depending on the business approach we adopt as we expand, patenting will become handy, especially when considering a revenue-sharing model.
What are some of the challenges you are facing?
Ours is a challenge of supply, not demand. It's a good problem, but a problem nonetheless, which we have to address seriously to uphold our credibility in the industry. That's why we are developing more efficient and faster machines to improve our production capacity. We tested our pavers last year, which was officially our first year in the market, and plan to expand our range in 2022. Our dream is to have an automated assembly line and a diverse product portfolio to meet expand demand and increase our market share. The idea is to develop a plug-and-play formula and to replicate our production process globally.
The informal sector in Kenya has been known to copy inventions and sell them at a cheaper price. Is this a concern for Gjenge?
To the contrary; I would actually consider it a compliment if local or African artisans replicated my innovation. The challenge is how to structure it so that we get a portion of the revenues they generate to cover the cost of the R&D work that we have done.
What are you doing to ensure that others can produce your pavers?
We are currently developing training manuals for different sectors, including for the jua kali (informal) sector, academia, businesses and the Government. These will help ensure users know what to do when we give them access to our production technology.
We are going digital and plan to offer online training courses, so those who are interested can sign up to access our training resources on recycling and the circular economy. We'll then start them off by designing and producing the machines they need.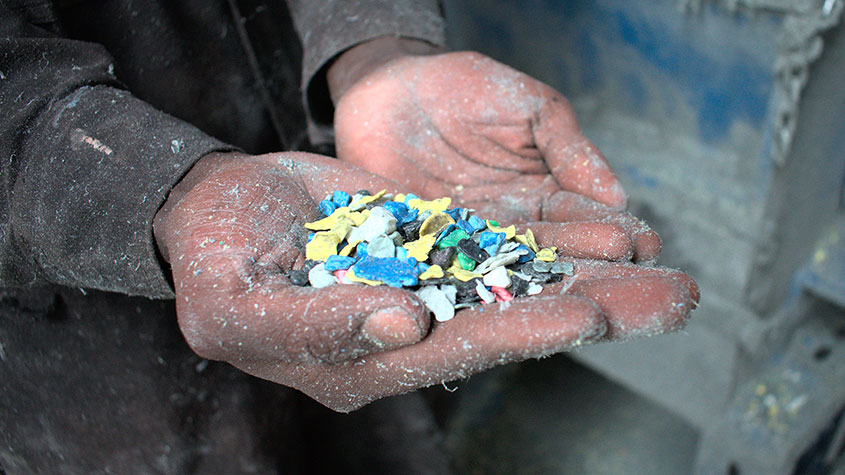 What about competition from bigger business rivals who can scale their operations faster and reach a wider market?
I believe the best protection you can ever have is market share. That's fundamental. If you have a big market share, everything will just fall into place. You also need a reputable, recognizable and trustworthy brand. That's what we are building – a strong brand name that's synonymous with quality, integrity and reliability. That will enable us to protect and expand our market share. Once we have these boxes checked, it won't matter if a big player moves in, because their only choice will be to collaborate with us, as we will have already cornered the market.
What measures can governments take to support SMEs like Gjenge?
In Africa, the value of patents has not been fully realized or exploited as a way to gain a market advantage. This is probably because of our cultures. Traditionally, ownership in Africa was communal, and as an individual, you could not claim to have intellectual property rights in creative works, processes or equipment and tools, even if you were the inventor. We created and invented things for the general good of our communities. But the world has changed, and we have to move past our traditional perception of IP, which may have contributed to delays in putting into place the necessary infrastructure to protect IP. In the absence of strong IP protection, entrepreneurs have to be smart. We have to make sure we have a big market share and strong brand name. That's what we're doing.
How are you advocating for renewable energy and how does this relate to your business?
We cannot survive in this world without energy. Our reliance on fossil fuels is proving disastrous for the climate. They are dirty and account for most of the planet's heating. In Africa, we have the option of clean and renewable energy, which is in abundance. We want to support this shift at Gjenge and have plans to move to solar for all our energy needs and to resort to the grid only as a backup. In the long term, this route makes economic sense. Renewable energy is the future. It is also our future, because we plan to become players in this field, generating, transforming and even transmitting renewable energy.
What advice do you have for young people with aspirations to build a better future?
My advice is simple. Start! That's usually the hardest part. You need to overcome the fear of the unknown, get going and deal with the challenges later. The only way to prove an idea is by starting. It's that simple.