March 2022
By Manuela Ramos Cacciatore, Information and Digital Outreach Division, WIPO
Isabella Springmuhl has carved a niche for herself in the fashion industry, thanks to the creativity and soul she puts into the designs she creates for her brand, Down to Xjabelle. The 25-year old is the first designer with Down syndrome to feature in London Fashion Week, one of the world's biggest fashion events. She is using the power of fashion to challenge the stereotypes and social discrimination she has experienced in response to her condition. In a recent interview with the WIPO Magazine, the young designer talks about her brand, Down to Xjabelle, the message of solidarity that it represents and the importance of intellectual property (IP) to her business.
Tell us about yourself.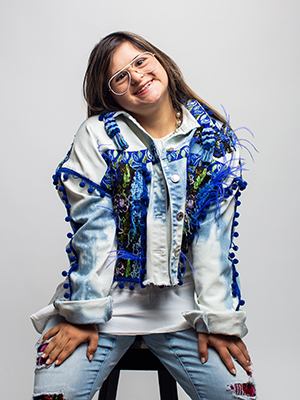 I am just as you see me. I am a designer, singer, daughter and sister, I am very talkative, sociable and fun loving and I am also a young woman with Down syndrome who loves what she does. I often say that the X chromosome is the love chromosome. My disability has made me stronger because I have had to work harder to get where I am. I am working on many projects and have many ambitions both for my brand and personally. My personal dream is to be an example to society and to show how wonderful Guatemala is. It's one of the world's most textile-rich countries.
Where does your passion for fashion come from?
From a very young age, I wanted to be a fashion designer. My mum tells me that when I was little I spent hours looking at fashion magazines, tracing dresses on paper and making them for my rag dolls. I would play with colors, shapes and textures. This was a foundation for my designs. My maternal grandmother was also a designer, so design runs in my veins. What started as a childhood game has become an entrepreneurial endeavor.
With Down to Xjabelle I want to show that all people with a disability are valued and can achieve whatever we set our minds to do.
What obstacles you have you had to overcome in your career?
The biggest setback was being denied entry to university. I was very angry, but I didn't give up. I was denied a formal education because of my condition. That was the first time I felt I might not be able to achieve my dreams. But now, I think it's the best thing that could have happened to me. In the end, I studied at a dressmaking academy where I learned how to use my machine, sew, make patterns, make friends and more. There, I realized that there are different ways to achieve what you set out to do.
How have you managed fears that your condition might hinder your dreams?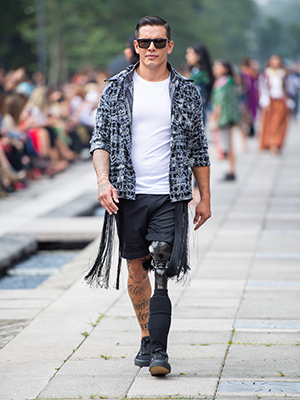 My fear of discrimination and rejection because of my condition has never paralyzed me, thanks to the support of my family, my team at Down to Xjabelle and my self-confidence. After all, I have achieved what I always dreamed of. I am happy with my designs and I know that the fashion world is my thing. But sometimes people are scared of me. At school, my classmates were afraid because they thought my condition was a disease. So, my mum and I made a book explaining that I am the same as they are and just needed more time to learn. When I graduated, they chose me to give the farewell speech — imagine that! That's when I finally felt accepted at my school.
What advice would you have for people living with a disability?
I would tell them to change "no" to "yes I can". We all have a learning curve and people with Down syndrome need more time to learn the skills they need to achieve their goals. While we are not perfect and make mistakes, we are human and need to keep moving forward. Our skills may develop more slowly, but with the right support and preparation to become adults we can achieve our goals. For example, I have my own design process; I sketch out my designs and use photos to convey my ideas to the people in my workshop who make what I have designed.
What lessons have you learned in your career as a fashion designer?
The most important lesson is to always look for the positive and to realize that it's okay to cry, get frustrated and angry because of inner doubts. I encourage everyone to follow their dreams and to let their minds fly!
I'm pleased to see that the fashion world is becoming less superficial. When people see my designs, they don't see someone with Down syndrome, they see a designer. That empathy makes me feel like one of them, and makes me happy to be able to open my heart through my designs.
Tell us about Guatextraordinaria. How did you start that project?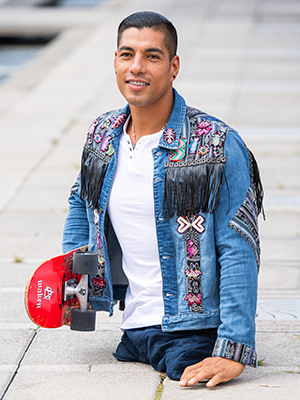 Guatextraordinaria came about when my aunt Maru invited me to participate in a fashion show at the Ixchel Museum in Guatemala City, where I presented my bags designed with Guatemalan textiles, tassels, pompoms and colorful accessories. This was my first experience of a fashion show and it opened the doors to the 2016 London Fashion Week, where I presented my work as an emerging fashion artist. That same year, I was named by the BBC as one of the world's 100 most influential women.
After Guatextraordinaria, you established Down to Xjabelle. Why was it important for you to create your own brand?
The Down to Xjabelle brand is my way of transmitting my ideas and creativity in every design I make for the fashion world. Down comes from my condition, and Xjabelle was the name of the workshop where my maternal grandmother worked 29 years ago. At first, the brand was focused on boys and girls with Down syndrome, and that's where the name comes from. People with Down syndrome have short limbs and torso, our bodies are different, so I started the brand making clothes for us. Now, we design clothing for women, young women and girls, and some clothing for boys and men, because everyone likes it.
What are the values behind Down to Xjabelle?
The values behind my brand are love for my country, Guatemala; for its history and the cultural heritage of Guatemalan textiles. The traditional Guatemalan style is present in each of the huipiles (embroidered dresses) that I make. My brand even has a word from the Indigenous language. The syllable "Xja", from Down to Xjabelle, comes from the Mayan language, Mam, spoken in northwestern Guatemala. It means "clothing". Diversity in the fashion world is also expressed through my brand.
I am a very inclusive person and I want to show that through the brand. In my fashion shows, I show models living with physical or mental disabilities because I believe that the fashion world must be inclusive. I fill the catwalks with love for inclusion and national pride, and I feel very grateful for that.
IP rights are a signal to my customers. They know that when they buy a Down to Xjabelle design they are acquiring a unique item.
Why was it important to protect your brand with IP rights?
I decided to register Down to Xjabelle because through my brand I make and sell my designs, using colorful Guatemalan fabrics. This way, I support the magical work of the artisans and the team of tailors, seamstresses and embroiderers in my company, and ensure the authenticity of each item. Thanks to Down to Xjabelle, my designs are becoming recognized around the world.
It is also important to protect the fact that I make sustainable, eco-fashion, which is one of the brand's key characteristics. None of the materials I use in my huipiles are new, they are used fabrics — my brand is responsible. In my workshop, I have cardboard boxes full of worn scraps and materials that I mix up to create my designs. Nothing is new; everything is recycled.
How have IP rights, such as your trademark, supported the growth of your company?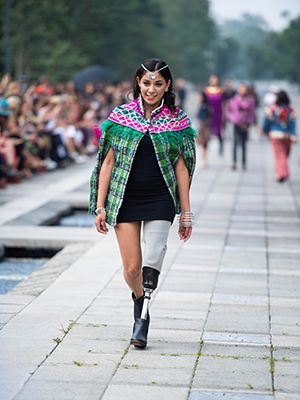 They have helped me gain recognition and standing for all the effort I put in, for my creativity, the quality of Guatemalan textiles, my team's work and the fair trade behind each item. IP rights also support the values of solidarity and service that Down to Xjabelle asserts to recognize the artisans' beautiful work and to champion the richness of Guatemalan textiles, which few people know about. All this allows me to place the right economic value on the work of the artisans who provide me with the brand's fabrics and huipiles, which, in turn, enables them to support their families and improve their quality of life.
How does your brand support indigenous peoples and communities?
I work with a group of artisans in Sacatepéquez, Guatemala, who make the tassels, fringes, beads, mesh bags and macramé that I incorporate into my items. I also work with a group of artisans with mental and physical disabilities who make all the beaded embroidery used in my designs. They are wonderful people. I am very fond of them and I recognize their artisanal work with fair and equitable payment. For me, the most important thing is to highlight the incredible work and technique required to make the textiles we use in the designs, and to recognize the origins of the materials used.
Is it important for fashion designers to recognize the inspiration for their designs?
All my fabrics have been previously used. Even so, it is important for me to know where they come from and that I am using items that are unique and have a history and tradition behind them. No two are alike. It is important that we designers recognize the source of our inspiration, and the value and work behind each item. That's why I insist that my suppliers inform me of the origins of the fabrics I use.
As a designer, I couldn't be any more in love with Guatemalan textiles and the history they recount, and this must be respected and valued.
What projects are you currently working on?
During the pandemic, I worked on my latest collection, called Keep on, which I presented in the Fashion Days, in San Miguel Allende, Mexico in October 2021. The city dresses up for this beautiful event and hosts a runway show at a local vineyard. The Keep on collection is inspired by the pandemic: keep going, no matter what.
And your plans for the future?
I am going to collaborate with a handbag brand to design mashatates (Guatemalan handbags) inspired by the bundles of goods that Indigenous Guatemalan women carry on their heads, thus linking in with my first collection. I also want to create a line of hats that reflect who I am, with feathers and tassels — my own special quirks that make my designs look as though they want to fly. And I want to create a "pet lovers" line for dogs. I will also continue to give talks, to strive for the inclusion of people with disabilities, and to encourage them to pursue their dreams.